Stefano Scatozza
Stefano Scatozza is an italian composer, arranger, guitarist and teacher , born and living in Rome.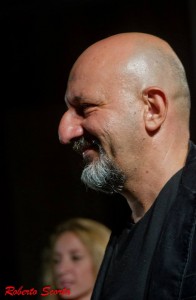 Since 2010 Instructor under contract of  Songwriting (Pop composition) at Frosinone Conservatory of Music.
Since 2014 Instructor under contract of Pop Arrangement and Composition at Trento Conservatory of Music.
In 1998, with lyricist Danilo Selvaggi and singer Raffaella Misiti,  founded the band "Acustimantico".
Acustimantico has now six cd's out and a lot of awards won
- 1999  Sonica prize for emerging bands
- 2002  First Fabrizio De Andrè Prize for the new songwriting
- 2003  "Best Music Prize" and "Critics Prize" in Recanati's Festival of songwriting
-2004  Best Repertoire, Mantova Music Festival
-2004  Best self-produced cd, for Acustimantico's "Santa Isabel" at MEI Festival, Faenza
With Acustimantico and with his own project called "Snow Cycle", Stefano has played in many festivals in Italy and abroad (Germany 2000,2002,2007; France 2004, Japan 2005, 2007; Canada 2007)
As orchestra Instructor under contract he has worked with many ensembles.
Actually he is the conductor and arranger of the "41° Parallel Orchestra" (cd. "Viaggio Orizzontale" ZDM 2013) (since 2009)
"Snow Cycle" is the title of his jazz main cd (2008), recorded in Canada with a group of wonderful international musicians.
Stefano composed a lot of music for theatre, musicals, TV, and movies.
In 2012 started a creative and productive collaboration with italian  singer and songwriterAgnese Valle (cd 2014)
In 2014 started a collaboration with Silvia Rasconà e Alessia Marcato (Musica Libera).